This shop has been compensated by Collective Bias, Inc. and its advertiser. All opinions are mine alone. #ProtectFromPetMess #SeasonalSolutions #CollectiveBias
Fall is officially here & that means the temperatures will soon be dropping! When it gets cooler outside, our dogs like to spend a lot more time inside. That means we have more pet stains to take care of & more attention to give!
I like to solve these problems with 2 things- STAINMASTER®™ Carpet Pet Stain Remover & special fall treats! Click the photo below to shop!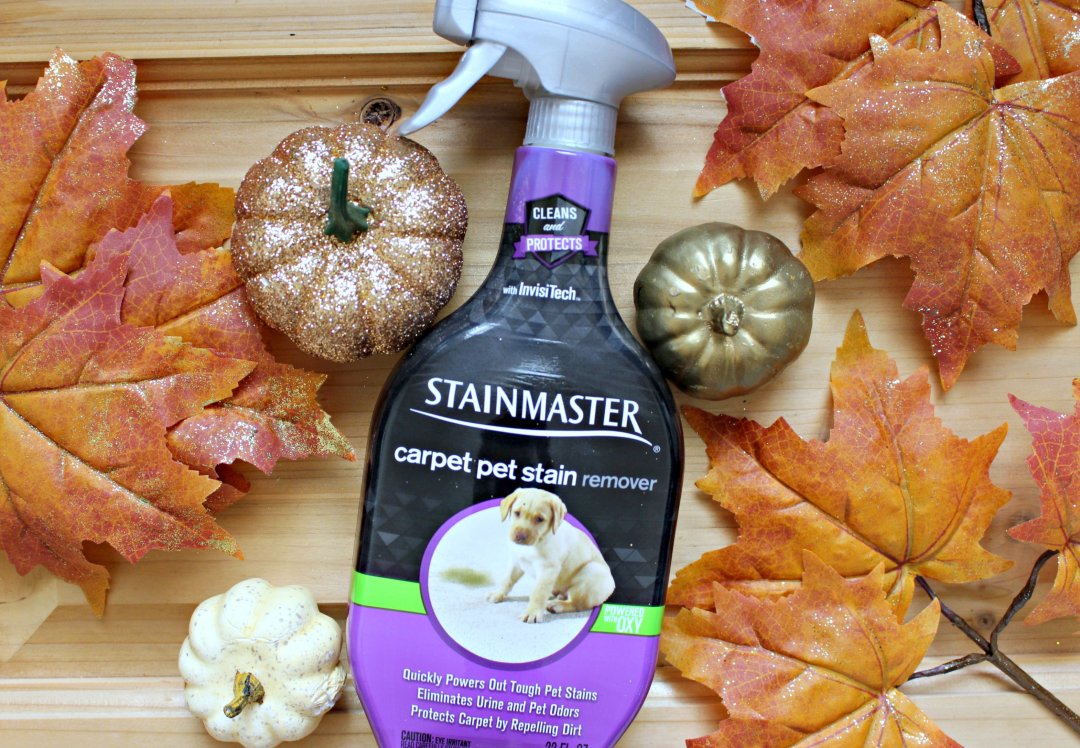 Fall means our dogs will be inside a lot more than they have been for the last several months & a good carpet, pet stain remover is completely necessary!
The treats feature pumpkin puree & are semi-homemade, perfect for the season! To make your own you need: a can of pumpkin puree, bone-shaped dog biscuits, oat cereal & assorted tiny treats.
Pets and carpet aren't always a great match, but STAINMASTER®™ Carpet Pet Stain Remover lifts away tough pet stains and eliminates odors! Other stain removers can leave a sticky residue that attracts dirt over time, but this breakthrough technology is designed to quickly clean on contact and repel dirt to protect against re-soiling! It keeps your carpet looking newer longer. You can breathe easy thanks to the powerful ODOR REMOVE™ technology, which starts to eliminate odors within just minutes. It works on all pet stains & everyday stains too!
To make your own pumpkin dog treats, you need: bone-shaped dog biscuits, a can of pumpkin puree, oat cereal & tiny treats.
To make it easier to use the pumpkin puree, I dump the can into a large plastic baggy & snip the end off.
One at a time, pipe the pumpkin onto the dog biscuit.
Then, top the puree with the oat cereal & mini treats.
Don't they look delicious?! Your dog will love them! Stick them in the freezer to harden up, then store in a plastic bag in the freezer & pull one out anytime you want to give your pup a sweet, fall treat!
Make mini pumpkin treats by placing a dollop of pumpkin down, sticking a mini treat on top & covering it with more pumpkin. Add another treat on top then freeze like the bigger treats.
Our dogs are big movers & full of energy, so getting a still picture of them is near impossible! You can tell they enjoyed their fall treats though!
You can get everything to make these treats & clean up doggie messes at Target! It's the perfect place to prep for fall with your pets! The STAINMASTER is located on the cleaning aisle! At my store, it's aisle E45.
Don't Forget to Pin it for Later!
Find more fun, fall inspo here!
Fall Blessings Y'all!
Cathryne